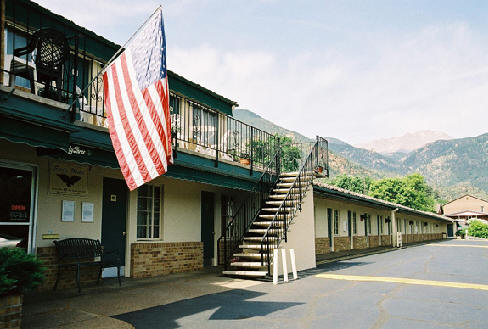 Make an online reservation TODAY! Click HERE.
The Eagle Motel enjoys the fine reputation for friendly service and attention to comfort one can expect to find in a family owned and operated establishment. We take pride in the fact that travelers from all over the United States and as far away as Asia, Australia and all over Europe often return or refer their friends and family.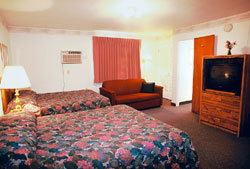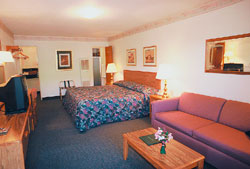 At The Eagle...
...you will find exceptionally clean, well-kept rooms. They are furnished with either one King or two Queen size beds, free local phone calls and Dish TV. All rooms are air-conditioned and non-smoking rooms are available. Continental breakfast served daily. WI-FI Internet available.
Manitou Springs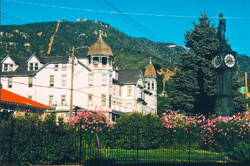 Just a short walk from the Eagle Motel will take you to the downtown district of this quaint Victorian town, nestled in the foothills of the Rocky Mountains at the base of Pikes peak. Here you may sample the water from several natural mineral springs, dine at one of the many fine restaurants or taverns, visit the specialty shops, experience the arts, entertainment and special events, or simply relax by the side of Fountain Creek.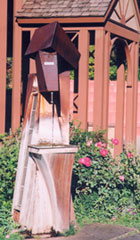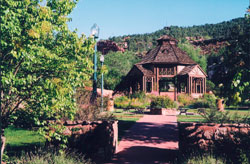 Pikes Peak at 14,115'...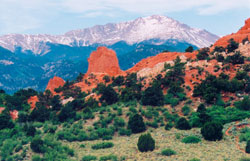 ...is the mountain that Zebulon Pike said wouldn't be conquered and where Katherine Lee Bates wrote "America the Beautiful." Experience their awe as you conquer the summit along with 500,000 other visitors per year.
The Eagle Motel is conveniently located just minutes from the Pikes Peak Cog Railway and only a short distance from most major attractions including the Garden of the Gods, U.S. Air Force Academy, Focus on the Family, Seven Falls, the Cheyenne Mountain Zoo, Cave of the Winds, the Manitou Cliff Dwellings Preserve and Museum, Miramont Castle, Santa's Workshop/North Pole, the Pikes Peak Highway and Cripple Creek Casinos.
Just some of the nearby activities include: hot air balloon rides, biking, hiking, horseback riding, golfing, rock climbing and jeep tours.